19th International Conference on Computational Linguistics and Intelligent Text Processing
March 18 to 24, 2018 • Hanoi, Vietnam
See also photos of past CICLing events
---
---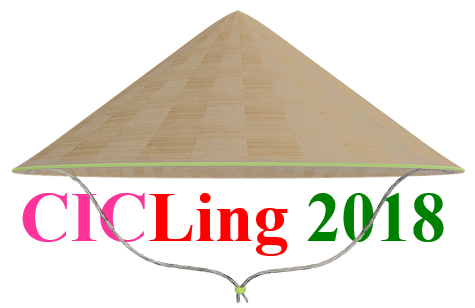 Call For Papers
This conference is the nineteenth CICLing event. Past participants' opinions include: Best NLP conference in Europe (Dan Tufiş, 2010), Fantastic conference! (Martin Kay, 2004), Everything was just great! Super-hyper-ultra-well done! (Igor Mel'cuk, 2000). We consider the following factors to define our identity:
High reputation. CICLing is one of leading NLP conferences, ranked 7th in Computational Linguistics by Google Metrics and B by the CORE list.
Good publication. The Lecture Notes in Computer Science (LNCS) published by Springer is a prestigious book series / journal highly valued in many countries for university promotion. CICLing is included in the ISI Thomson Web of Science, Scopus, and a number of other important indices.

Excellent keynote speakers

. We invite the most prominent scientists of the field to give keynote talks that (unlike other conferences) are published in extenso in the proceedings. Each keynote speaker also organizes an additional tutorial or discussion. They usually participate in the cultural program, where you can interact with them in an informal environment.

General interest

. The conference covers nearly all topics related to computational linguistics and natural language processing. This makes it attractive for people from different areas and leads to vivid and interesting discussions and exchange of opinions.
Informal interaction. The conference is intended for a rather small group of professionals. This allows for informal and friendly atmosphere, more resembling a friendly party than an official event. At CICLing, you can pass hours speaking with your favorite famous scientists who you scarcely could even greet in the crowd at large conferences.

Excellent cultural program

. The conference is intended for people feeling themselves young in their souls, adventurous explorers of both science and life. Our cultural program brings the participants to unique marvels of history and nature often hidden from ordinary tourists.
Vietnam was the field of one of longest and most controversial wars of the past century, of which most of us have heard so much. CICLing 2018 will be a great opportunity for us to go and see its history for ourselves.
Vietnam is an exotic (for Westerners) Buddhist country, with many interesting historic monuments.
It

has also many natural wonders to show. We will have tours to some of them.

It will be a good opportunity for many of us to enjoy warm yet pleasant weather while it's still quite cold in the North.

Accepted papers will be published in a volume of
or will be invited for publication in another volume or special issue of a journal derived from the conference:
Collocated events will have their own publications.

CICLing 2018 is hosted by the ICT department of University of Science and Technology of Hanoi (USTH), Hanoi, Vietnam, and organized by the CICLing 2018 Organizing Committee in collaboration with the Vietnam-France ICTLab, ICT department of University of Science and Technology of Hanoi (USTH), Vietnamese Academy of Science and Technology (VAST), University of La Rochelle France (ULR), Institut de recherche pour le développement (IRD), the Natural Language and Text Processing Laboratory of the CIC, IPN, and the Mexican Society of Artificial Intelligence (SMIA).

In general, we are interested in whatever helps, will help eventually, or might help computers meaningfully deal with language data.
The conference is intended to encourage exchange of opinions between the scientists working in different areas of the growing field of computational linguistics and intelligent text and speech processing. Our idea is to get a general view of the state of art in computational linguistics and its applications.
Areas of interest include, but are not limited to, the following topics, provided that the work is presented in computer-related or formal description aspects:
Computational linguistics research:

Computational linguistic theories and formalisms

Representation of linguistic knowledge

Lexical resources

Morphology, syntax, semantics

Discourse models

Ambiguity resolution

Anaphora resolution

Word sense disambiguation

Recognizing textual entailment

Text generation

Machine translation
etc.

Intelligent text and speech processing and their applications:

Opinion mining, sentiment analysis, social networks
Speech processing and text-to-speech

Text categorization and clustering

Information retrieval, information extraction

Text mining

Summarization

Spell checking

Detection of plagiarism

Natural language interfaces

etc.
We welcome works on processing any language (not necessarily English), though major languages are of more general interest. When discussing phenomena of languages other than English, please keep your discussion understandable for people not familiar with this language.
You can have a look at the contents of the proceedings of past CICLing events to get an idea of our interests. If not sure whether your topic is of interest, please ask us.

We expect to enjoy keynote talks by four excellent internationally recognized speakers. The names and topics will be announced here later.
Traditionally, our keynote speakers give a formal talk, publish a paper in extenso in the proceedings, and also organize a "special event": a discussion, tutorial, experiment, or something just interesting. Such events, as well as publication of the keynote talks in the proceedings, are distinctive features of CICLing; see Past participants' opinions.
Fabrizio Sebastiani, Istituto di Scienza e Tecnologia dell'Informazione "Alessandro Faedo", Consiglio Nazionale delle Ricerche, Area della Ricerca di Pisa, Italy

Date: Monday 19

Talk: (tentatively) Multilingual Text Classification via Classifier Ensembles

Event: How CL Researchers should be Evaluated: Make your Voice be Heard!

Abstract: This event is meant to be an open discussion on how research in CL is currently being evaluated, and how we all think it should be. Are you currently being evaluated for hiring or for promotion, and feel that the criteria routinely used should be improved? Bibliometrics is now widely used for evaluation purposes, but are the measures being used reasonable? Can they be "gamed"? How should new forms of publishing (e.g., ArXiv) be taken into account? Is bibliometrics too dominant when evaluating CL researchers? CL is at the crossroads of computer science and linguistics, two fields characterized by different publication patterns; how do we feel CL researchers should be evaluated? I would like to eventually produce a brief report that summarizes the opinions that will emerge. Let us make our voices be heard!

Paper: (tentatively) Multilingual Text Classification via Classifier Ensembles

Jing Jiang,

Singapore Management University

Date: Tuesday 20

Talk: Machine Comprehension using Neural Network Models

Abstract: The task of machine reading comprehension and question answering has attracted much attention in recent years. The goal is to teach machines to answer questions related to a given passage of text. Several benchmark data sets have been created and state-of-the-art solutions are almost all based on neural network models. In this talk, I will give an overview of machine comprehension and explain how neural network models can be trained for this task, using our own work as an example. I will also discuss the challenges we still face in this task.

Event: Are End-to-end Systems the Ultimate Solutions for NLP?

Abstract: Recent years have witnessed a fast-growing trend of using deep learning-based models for all sorts of NLP tasks. Among these models, end-to-end systems have attracted much attention. These systems do not require feature engineering and are trained on an end-to-end manner, using only training data based on the end task. While end-to-end systems have achieved good results for tasks such as machine translation and abstractive summarization, it is debatable whether they are the ultimate solutions for language understanding. In this event, I'd like to hear your opinions regarding the end-to-end approach to NLP. Do you build end-to-end systems for your task? What limitations do you think end-to-end systems have? Do you think interpretability of a system is important, not just for human understanding but also for further improving the system? Let us discuss these various questions during this special event.

Pushpak Bhattacharyya, Indian Institute of Technology Patna and Indian Institute of Technology Bombay

Date: Thursday 22

Talk: "Waiting for 3 hours in freezing cold is so much fun!:)": A Computational and Cognitive Study of Sarcasm

Event: NLP = Linguistics + ML?

Paper: To be announced

Bio: Prof. Pushpak Bhattacharyya is the recent past President of ACL (2016-17). He is the Director of IIT Patna and Vijay and ex Sita Vashee Chair Professor in IIT Bombay, Computer Science and Engineering Department. He was educated in IIT Kharagpur (B.Tech), IIT Kanpur (M.Tech) and IIT Bombay (PhD). He has been visiting scholar and faculty in MIT, Stanford, UT Houston and University Joseph Fouriere (France). Prof. Bhattacharyya's research areas are Natural Language Processing, Machine Learning and AI. He has guided more than 250 students (PhD, masters and Bachelors), has published more than 300 research papers and led government and industry projects of international and national importance. A significant contribution of his is Multilingual Lexical Knowledge Bases and Projection. Author of the text book 'Machine Translation' Prof. Bhattacharyya is loved by his students for his inspiring teaching and mentorship. He is a Fellow of National Academy of Engineering, Eminent Engineer awardee of Institute of Engineers India, recipient of Patwardhan Award of IIT Bombay and VNMM award of IIT Roorkey- both for technology development, and faculty grants of IBM, Microsoft, Yahoo and United Nations. A recent web analysis places Prof. Bhattacharyya in the list of most prolific researchers on NLP and ML.

Soujanya Poria

,

Nanyang Technological University

, Singapore

Date: Friday 23

Talk: Multimodal Sentiment Analysis

Abstract: Technology has enabled anyone with an Internet connection to easily create and share their ideas, opinions and content with millions of other people around the world. Much of the content being posted and consumed online is multimodal. With billions of phones, tablets and PCs shipping today with built-in cameras and a host of new video-equipped wearables like Google Glass on the horizon, the amount of video on the Internet will only continue to increase. It has become increasingly difficult for researchers to keep up with this deluge of multimodal content, let alone organize or make sense of it. Mining useful knowledge from video is a critical need that will grow exponentially, in pace with the global growth of content. This is particularly important in sentiment analysis, as both service and product reviews are gradually shifting from unimodal to multimodal. In this talk, I will give an overview of the applications, motivations of multimodal sentiment analysis along with the ways to extract visual, textual and audio features from the multimodal content. I will also discuss how to leverage these three types of features for multimodal sentiment analysis.

Event: NLP – ML = Linguistics + common sense?

Paper: To be announced

| | |
| --- | --- |
| Expression of interest (abstract) | Extended for new submissions: please upload your abstract now |
| Full text submission | Extended for new submissions: please upload your paper now |
| Notification of acceptance | February 1 for papers submitted by Jan 12 (contact us if you really need it earlier, we might give priority to some papers, not to all) |
| Camera-ready for pre-print version | still open |
| Camera-ready for post-conf volumes | post-conf |
| Registration: filling in the info (authors) | March 3 (only fill in the info, including amount to pay, but not actual payment) |
| Registration: payment (authors) | March 12 (actual payment, the other info must be filled by March 3) |
| Conference | March 18 to 24, 2018 |
Submitting a paper constitutes a consent for publication and a promise in case of acceptance to attend the conference and to pay the fee. See more details in the legal notices.
Paper submission is divided into two phases:
Now, please express your interest now by registering a tentative abstract of the paper via the web submission system. At this stage, the full text is not required and the tentative abstract will only be used to assign reviewers for your paper. You can update abstract, title, or full text as many times as you wish while the paper submission system is open. At this stage we only need to know the topic of your paper in order to assign adequate reviewers.

By the full text deadline, the authors of papers registered at the previous step should upload the full text of the paper. No changes should be made after this date (but contact the organizers if you need to make changes).
The proceedings volumes will be published post-conference; pre-print versions will be available online during the conference.

For registration, please fill in the questionnaire in the registration system. After it, the system will send you a payment link. The registration is done in three steps:
Before March 3: visit the URL and create an account;

Before March 3: return to the same URL; login and fill in the registration form with your details (at this moment you do not pay, you only indicate the amount of your future payment);

Before March 12: pay through a separate link that will be provided after you have filled in the form.
The early registration fee is: USD 690 full fee, USD 530 full-time student discount fee (you will need to produce a valid student ID to prove that you are a full-time student).
The fee is per participant and per paper. I.e., for each paper, at least one fee is to be paid: if a participant presents two papers, two fees are to be paid. On the other hand, a participant that does not present any paper should pay a fee.
The fee includes, apart from attendance of the keynote and regular talks, three full-day tours, the lunch on the work days, and snacks at the poster session. The fee does not include any hard copy proceedings: almost nobody needs hard copies nowadays (you can contact us if you really need a hard copy).
For questions, please contact us at the registration@ address as indicated here.
By submitting a paper, at least one author has thereby promised, in case of acceptance, to pay the registration fee. We will not be able to publish any paper for which the fee has not been paid (except very few papers with a special discount; see below).
We try to make the fee as low as we could. Why this fee?
We do our best to keep the fee as low as possible. In particular, CICLing is completely non-profit: nobody of the organizers receives any remuneration.

CICLing gives much more than most conferences do. In particular, CICLing provides a greater number of keynote speakers, a much wider cultural program, lunches on all working days; this inevitably affects the fee. Lowering the fee beyond reasonable level would greatly decrease the quality of the conference and the benefits for its attendees, while making negligible difference for the budget of most participants, because:

Most universities allocate sufficient funding for attending conferences;

The fee is a minor part of your total expenses, as compared with the airplane tickets and lodging.

In addition to the expenses for each participant, the fee includes a small number of waivers for poor students. Namely:

If you pay: You pay a bit more than is spent on your participation: you also pay for students from poor countries;

If you don't: A waiver does not mean waiving the fee; instead, it means that others pay for you. Your waiver increases the fee for all.

The full fee is higher than the real expenses per participant, because it includes part of the student's expenses and waivers. The student fee is lower than the real expenses, because non-students partially pay for the students.

We have no governmental funding. Please let us know if you can help in any way in (or give advice about) obtaining sponsorship or another kind of help.
On reduced registration fee: A very limited number of reduced fees will be available. To apply, please contact us and thoroughly justify your application. We really mean this: thoroughly justify; very many of the participants are students from poor countries, explain why you believe that they should pay for you, and how come you plan to attend an international conference if you can't even pay the fee. Eligible for reduced registration are people from underdeveloped countries in case if their institutions really cannot paying the fee (generally not included: North America, Western Europe, China, South Korea, Japan). Authors must apply for reduced registration (clearly indicating the discount amount) before submission of their paper. No applications will be considered for already reviewed papers. Notes:
Though all papers are judged by strictly academic criteria, in borderline cases and between papers of comparable quality we may give preference to papers with fully paid fee.
Though we will do our best for this not to happen, we cannot guarantee providing some material (including the proceedings) to participants with reduced fee. Also, in case of lack of seats in the excursion bus we will have to give preference to fully registered participants.
We are interested in a few volunteer helpers, please contact us. Speakers of the local language and residents of the local venue are preferred. The volunteers may or may not have preference in assigning fee reduction.

All papers accepted for full oral presentation at CICLing 2018 will be published in a proceedings volume edited by Springer in its Lecture Notes in Computer Science series, which is indexed in many major indices including Scopus. Papers accepted for short oral presentation plus poster presentation will be published separately in special issues of journals, see Poster Session (let us know if you actually prefer this type of publication).
In addition to the text of the paper, authors are strongly encouraged to provide code and data that permit to reproduce their results, see CICLing verifiability, reproducibility, and working description policy.
Before submitting, please check our legal notices on video recording and on obligations of authors. In particular, by submitting a paper, at least one author thereby promises, in case of acceptance, to attend the conference in person to present the paper (if possible) and to pay the corresponding registration fee. Submissions are received electronically:
Contact: See email options, fax, and the street address on www.CICLing.org/contact.html.

Starting from 2011, CICLing implements a policy of giving preference to papers with verifiable and reproducible results, i.e., papers that provide the code and lexical resources that allow to reproduce the results. This is not a requirement. If for any reason you cannot accompany your paper with the code, go ahead and submit your paper normally.
A Special best verifiability, reproducibility, and working description award will be given at the conference.
For the time being, we encourage the submitted software to be anonymous but we do not require this: your data (but not the text of your paper) can disclose your identity if there is no reasonable way of avoiding this.
To submit your data for evaluation, upload them to our FTP site ftp://ftp.cicling.org/in/CICLing-2018, as a an archive (such as Zip). The name of the archive should be CICLing_NNN.ext, where NNN is the submission ID assigned by EasyChair, for example, CICLing_123.zip. If your data are too large to be uploaded, then please send us a URL where the data can be downloaded, and we will copy your files to our server (please use Subject: "CICLing_NNN software").
Please try to make your software self-contained by reasonably including whatever is needed to run it (such as specific versions of programs). Specifically, please avoid pointing to URLs where the data can be downloaded from; instead, please include the actual data whenever possible -- this is important for reproducibility because the data on remote servers might change (or become unavailable) at any moment, while attached data will be safely stored on our servers. All programs should be submitted in source code, and all data in clearly specified, preferably human-readable, format.
Please see a detailed description of the CICLing verifiability, reproducibility, and working description policy, our reasons and goals, and some FAQ. Note that by submitting your material you allow its free distribution in case of acceptance of your paper; see more details in legal disclaimers.

The following awards have been given:
Best Paper awards given by the Award Committee basing on the reviewers' scores and judgment of the Committee members. The criteria taken into account are: novelty, originality, and importance of the reported work and overall quality of the paper. Winners:

Best Paper Award – First Place: Neural Network Architecture for Credibility Assessment of Textual Claims, by Rajat Singh, Nurendra Choudhary, Ishita Bindlish, and Manish Shrivastava, India

Best Paper Award – Second Place: POS, ANA and LEM: Word Embeddings Built from Annotated Corpora Perform Better, by Attila Novák and Borbála Novák, Hungary

Best Paper Award – Third Place: One World — Seven Thousand Languages, by Fausto Giunchiglia, Khuyagbaatar Batsuren, and Abed Alhakim Freihat, Italy

Best Student Paper award given by the Award Committee basing on the same criteria, but choosing out of papers whose first author is a full-time student and excluding the papers selected for a Best Paper award. Winners:

Best Student Paper Award: Self-adaptive Privacy Concern Detection for User-generated Content, by Xuan-Son Vu and Lili Jiang, Sweden

Best Verifiability, Reproducibility, and Working Description award given by the Software Reviewing Committee for the software accompanying the paper that best fulfills the goals of our verifiability, reproducibility, and working description policy. The criteria taken into account are: the clarity, simplicity, completeness, and overall quality of the code accompanying the paper that allows to verify and exactly reproduce the claims of the paper; see more details in the instructions for software reviewers. Winners:

Verifiability, Reproducibility, and Working Description Award: From Emoji Usage to Categorical Emoji Prediction, by Gaël Guibon, Magalie Ochs, and Patrice Bellot, France

Best Presentation award given to oral session authors by a ballot among all participants. The criteria taken into account are: the clarity and overall quality of the presentation, and in lesser degree the technical quality of the presented work. Winners:

Best Presentation Award according to a ballot of all participants: Automatic Metaphor Interpretation Using Word Embeddings, by Kfir Bar, Nachum Dershowitz and Lena Dankin, Israel

Best Poster award given to poster session authors by a ballot among all participants. The criteria taken into account are: the clarity and overall quality of the poster, and in lesser degree the technical quality of the presented work. Winners:

Best Poster Award according to a ballot of all participants: Unsupervised Creation of Normalization Dictionaries for Micro-Blogs in Arabic, French and English, by Amal Htait, Sebastien Fournier and Patrice Bellot, France

The papers accepted for the poster/demo session are anticipated to be published in a special issue of a journal, to be announced later. See here the guidelines for submitting and preparing your poster.
Please print your poster and bring it to the conference. We will not be able to arrange for printing on site.
Poster session will be combined with the welcome party, so people will be in good mood when reading your poster. In our experience the authors often have better opportunity to communicate their idea to interested attendees via individual live interaction at a poster presentation than via standard talk. If you feel your paper is not competitive enough for the oral session, do go ahead and submit it: a poster can be an excellent opportunity for you to get feedback.
Immediately before the poster session the poster papers will be presented (better to say, announced) orally. Each presentation will be of one minute, and you can use a couple of slides. We recommend to use one or two slides to show the title and the main idea of your work, and maybe the main results, and the final slide to show an image of your poster, for people to recognize your poster during the poster session. The purpose of this one-minute presentation is not to explain your work in detail but to attract attention of people to you and your poster. If you succeed, you will then have two hours to explain your work to all interested people, during the poster session and in fact all the breaks on other days. Please only include the main selling points of your work in this short presentation; too dense information would only confuse people.
To streamline the session, we will ask you to send us your presentation, to be pre-loaded to our laptop.

Detailed schedule has been announced. It may be updated, please visit the page for updates.
See full list of accepted papers by paper ID with publication option indicated.
See schedule overview. There will be four days of technical program and three days of academic activities and cultural program (see our disclaimer about availability of tours). Here is the general layout:
Sunday

18:

Academic and cultural activities

Monday 19:

Keynote talk, regular talks, special event, short presentations + poster session + welcome party 1

Tuesday 20:

Keynote talk, regular talks, special event, short presentations

Wednesday 21:

Academic and cultural activities

Thursday 22:

Keynote talk, regular talks, special event, short presentations + poster session + welcome party 2

Friday 23:

Keynote talk, regular talks, special event, awarding and closing ceremony, cultural activity

Saturday 24:

Academic and cultural activities
If you don't have time for the cultural program, you can arrive on Monday and leave on Friday; you will miss some cultural activities.

See detailed schedule.
During the conference we will have three full-day tours, tentatively with the following distribution (the order of the tours might still change, please return to this site later):
| | | |
| --- | --- | --- |
| Sunday 18: | | Hanoi Tour, where we take attendees around the main spots of the city, such as the One Pilar Pagoda and the Turtle Tower in the middle of the small lake around which the old town resides. |
| Wednesday 21: | | Ha Long Bay, with bus and a tour by boat within the bay. |
| Saturday 24: | | Cuc Phuong National Park (Tam Coc and Hoa Lu). |
See some photos and more details.
Traditionally, we exchange coins: please bring some coins of your country. We will put them on a large tray, from which you will take as many exotic coins as many you put there yours. Please bring many: 200 people (and their children) will want your coins!

It is convenient for the participants to stay in the same hotel or nearby hotels, to facilitate informal interaction. Usually our participants form ad-hoc informal companies in the hotel reception to go to some restaurant, local sightseeing, etc. All cultural activities will start from the official hotel. We suggest you not to book a different hotel.
The most up-to-date information on the available hotels is on the registration page, but here is a summary:
All cultural activities, as well as daily bus pickup and drop-off will be from the following two hotels:
Chalcedony Hotel 4*, No. 4 Nguyen Truong To, Ba Dinh District, Hanoi (map), $50 / room / night (included breakfast, taxes, and service charge);

Super hotel Hanoi Old Quarter, 3A Phan Dinh Phung Street, Ba Dinh District, Hanoi (map), $45 / room / night (included breakfast, taxes, and service charge).
Please do not book these hotels directly, otherwise they will not identify you as a CICLing participant. To book these hotels and to get this price, please contact hotel2018@cicling.org (we have blocked many rooms for CICLing).

The conference venue is:
Auditorium, 9th Floor
Vietnam-France University of Science of Technology of Hanoi (USTH)
Vietnam Academy of Science and Technology (VAST)
18 Hoang Quoc Viet, Cau Giay, Hanoi, Vietnam

In Vietnamese, for the taxi:
Auditorium,
Truong Dai hoc Khoa hoc va Cong nghe Ha Noi (Nha A21)
18 Hoang Quoc Viet, Cau Giay, Ha Noi
Contact phones:
Medical emergency: 115 (best ask a local to call if possible)

Antoine, local co-chair: +84 1684700182

Chi Mai, local co-chair: +84 904100610

Linh, visa and local support: +84 968886188
Visa information:
Check the Vietnam visa exemption rules to see whether you need a visa.

For participants coming from countries where there is no Embassy or Consulate of Vietnam, USTH will support them to collect their visa at the airport. They should send a scan of their passport (the first page of information and the page with their signature) and a proof of registration before Thursday March 8 at the visa2018@ address.

After March 8, USTH will continue to support the participants who need the visa until March 16, but they should pay a USD 5 more for an express service to collect a visa at the airport.
Transportation from the airport. Here are some options; do not hesitate to contact hotel2018@ for more information:
Hotels can arrange pickup service for around $ 15 per car; contact hotel2018@ or contact the hotel directly.

Private car: $ 25 for pick up; contact hotel2018@.

Taxi ordered by yourself on arrival: about $ 16.

Uber: about $ 10, but consider roaming costs.

The cheapest option, yet very efficient, is the AC airport bus (number 86) that goes from the airport to the central railway station, going via the conference hotels area. Its costs 30,000 VND (about $ 1.25).
Local guide and venue info is under construction.

By submitting a paper or attending the conference you accept the following terms:
Obligations of the authors. Submitting a paper constitutes a consent for publication, acceptance of the terms specified hereby, and a promise, in case of acceptance for the main volume of the proceedings, to provide a correct and complete camera-ready version of the paper in editable (source) format, a duly filled copyright transfer form, to attend the conference (if possible), and to pay the registration fee, except in the cases agreed upon in due time with the organizers.
Software and data. Software and data accompanying the paper will be treated in the same way as the paper itself in that in case of acceptance, free access to this material can be provided to the readers of the paper or to public. By submitting software or data, you agree that in case of acceptance of the paper for the main proceedings volume, it can be freely distributed by the organizers, and anybody is allowed to copy it. This also applies to the cases when you provide only a URL: you agree that the organizers can store a copy of the data accessible via this URL and, in case of acceptance, freely distribute this copy. While you cannot restrict copying of the submitted data (otherwise don't submit it), you can restrict using your data by including a reasonable no-nonsense license, which should allow the use of the data for research purposes.
Cultural program. The cultural program is a courtesy of the organizing committee provided "as is" and intended to help the participants in visiting certain places, which they visit under their own risk and responsibility. Quality and safety. Some or all of the cultural program activities may be organized not professionally but by volunteers. We will make any reasonable effort in order for the activities to be interesting, well-organized, and safe, but we cannot guarantee any particular quality of service. Some activities may require physical effort, such as much walking or hill-climbing, and/or rely on the use of public transportation.
Force-majeure. Though so far no tours have been cancelled due to force-majeure circumstances at any of the past CICLing conferences, the following formal disclaimer applies: Some or all of the cultural program may depend on weather conditions, technical, political, or other circumstances. Permission for transportation or visiting specific places may depend on the authorities and not on the organizing committee; thus the corresponding tours can accordingly be cancelled at any moment without prior notice. Since all expenses are done in advance and are non-refundable, in case of cancellation of the tours no refund can be offered to the participants. The organizers may or may not be able to provide alternative cultural or academic activities instead of cancelled tours.

Video recording. All CICLing-related activities, both academic and cultural, may be video recorded, photographed, and/or live video broadcast over the Internet or otherwise. The organizers may make the recordings and photos publicly available or provide them to third parties for any legal purpose, including storage and distribution. Unless otherwise explicitly communicated to the organizers in advance, by submitting a paper, registering for the conference, or attending the conference you authorize the organizers, attendees, or persons authorized by the organizers to video record, photograph, and/or video broadcast all conference activities, including your presentation, and to make these video recordings and photos publicly available and/or available to any third party for any legal purpose, and you also promise to explicitly confirm this authorization, in writing or otherwise, if later asked to do so by the organizers. If this is a problem, please contact us in advance.

General disclaimer. The following text does not imply any specific risk for CICLing attendees; this is a standard legal disclaimer generally applied to any public event in any part of the world: No special insurance, medical service, or security measures are guaranteed to be provided for the conference. The participants are advised to arrange with a third party for their travel insurance that includes international medical coverage, as well as to observe the standard safety precautions. The participants will take part in all activities of the conference entirely on their own risk. The organizers shall not be liable, to the extend permitted by law, for any illness, injuries, stolen objects, or any other problems that the participants may face during the cultural or academic program of the conference.

General Chair: Alexander Gelbukh
Organizing Committee
Ted Pedersen
Florian Holz
Miloš Jakubíček
Sergio Jiménez Vargas
Miikka Silfverberg
Ronald Winnemöller
Best Paper Award Selection Committee
Alexander Gelbukh
Eduard Hovy
Rada Mihalcea
Ted Pedersen
Yorick Wiks

Please distribute the CFP! Here is a poster in different formats, please hang it on a wall in your University:

Return to the top of the page.
(This conference is not affiliated in any way with the WASET ICCLITP conference, which copied our wording,
or with their "Advances in Computational Linguistics and Intelligent Text Processing" journal issue.)