Announcements

Mar 28:
Thank you for attending! See you at CICLing 2011!
Mar 21:
LIVE TRANSMISSION
Mar 19:
Detailed PROGRAM. Presentations: 20 minutes with 4 min. of tolerance, questions and switching laptops included. Awarded papers: 25 min.
Mar 19:
Dan Cristea's PROMISE event keynote talk is included in the CICLing program as a transition event from CICLing to PROMISE.
Mar 17:
RCS volume with 27 poster papers is available for download. Also, ToC of IJCLA, where18 poster papers were included.
Mar 7:
PROMISE satellite event. Note: our PROMISE 2010 event is unrelated to a conference with a similar name to be held in September.
Jan 18:
Local information page is available with travel info, cultural program and many other important details. Under Conference Details, note the program overview (detailed program is not yet ready) and venue information.
---
CICLing pays tribute to Romania for its people's unique contribution to Computational Linguistics
11th International Conference on Intelligent Text Processing and Computational Linguistics
CICLing-2010: March 21-27, 2010, Iaşi, Romania - jointly with PROMISE 2010
Endorsed by the Association for Computational Linguistics (ACL)
Publication: Springer Lecture Notes in Computer Science;
posters: Intern. J. of Computational Linguistics and Applications, J. Polibits, or J. RCS.
Tours (tentative): Medieval castles (including Dracula's), painted monasteries,
salt-mine, possibly winery, bison reservation, Red Lake, and more.
Program for accompanying persons: come with your spouse and children!
Keynote: James Pustejovsky and Shuly Wintner.
Awards: Best Paper award, Best Presentation award, Best Poster award.
---
Call For Papers and Detailed Info
CICLing-2010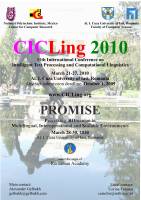 This conference is the eleventh CICLing event. The past CICLing conferences have been very successful, according to the comments of the participants: Fantastic conference! (Martin Kay, 2004), Everything was just great! Super-hyper-ultra-well done! (Igor Mel'cuk, 2000). We consider the following factors to define our identity:

Excellent keynote speakers. We invite the most prominent scientists of the field to give keynote talks that (unlike other conferences) are published in extenso in the proceedings. Each keynote speaker also organizes an additional tutorial or discussion. They usually participate in the tours where you can interact with them in an informal environment. [Past participants' opinions]

General interest. The conference covers nearly all topics related to computational linguistics and text processing. This makes it attractive for people from different areas and leads to vivid and interesting discussions and exchange of opinions.

Informal interaction. The conference is intended for a rather small group of professionals. This allows for informal and friendly atmosphere, more resembling a friendly party than an official event. At CICLing, you can pass hours speaking with your favorite famous scientists who you scarcely could even greet in the crowd at large conferences.

Excellent cultural program. The conference is intended for people feeling themselves young in their souls, adventurous explorers of both science and life. Our cultural program brings the participants to unique marvels of history and nature hidden from ordinary tourists.

Romania is conveniently located near the center of Europe, and still it has not yet been frequented by tourists from both former Eastern world and the Western world.

Romania is a country at the crossroads -- cultural, historic, geographic, and even linguistic crossroads. CICLing attendees will find there a unique combination of tangible Medieval past and modernity, Orthodox and Catholic culture, recent Soviet influence and new European realities.

Romania is a country from the legend: country of dragons and dark forests at the edge of the inhabited world, country of knights and castles, of Dracula and vampires. We will feel this atmosphere of legend in its medieval castles that we will visit at the tours. Yet the local organizers promise that we will find that Romanian people are good and kind and are not at all like Dracula and vampires... well, let's see for ourselves!

Iasi is the old capital of Romania and Moldavia (well, simplifying things a lot): it has been the capital for three hundred years, and thus is of great touristic interest. There are many medieval castles and monasteries to visit around it. Orthodox monasteries are of special interest, because they are much less known to Western tourists than the usual Catholic ones, and look quite differently.

With CICLing 2010, we celebrate 150 years of the Alexandru Ioan Cuza University of Iasi, the oldest higher education institution in Romania.

And most importantly, with CICLing 2010 we pay tribute to Romania, the nation that gave the world probably the greatest number of wonderful computational linguists per capita -- of which quite a few have been CICLing Program Committee members, keynote speakers, or authors: Rada Mihalcea, Daniel Marcu, Vasile Rus, Marius Pasca, Constantin Orasan, Dan Cristea, Vivi Nastase, Diana Inkpen, Roxana Girju, to name just a few. To further celebrate Romania and Romanian language (do some languages cause people to become computational linguists?) we will organize a separate workshop: PROMISE 2010.

The conference is co-organized by the Alexandru Ioan Cuza University of Iasi, Romania, and the Natural Language and Text Processing Laboratory of the CIC (Center for Computing Research) of the IPN (National Polytechnic Institute), Mexico, and held at the the Alexandru Ioan Cuza University of Iasi.

In general, we are interested in whatever helps, will help eventually, or might help computers meaningfully deal with language data.
The conference is intended to encourage exchange of opinions between the scientists working in different areas of the growing field of computational linguistics and intelligent text processing. Our idea is to get a general view of the state of art in computational linguistics and its applications.
Areas of interest include, but are not limited to, the following topics, provided that the work is presented in computer-related or formal description aspects:
Computational linguistics research:

   Computational linguistic theories and formalisms

   Representation of linguistic knowledge

   Statistical methods in computational linguistics

   Lexical resources

   Morphology

   Syntax

   Semantics

   Discourse models

   Ambiguity resolution

   Word Sense Disambiguation

   Anaphora resolution

   Text generation

Machine translation

etc.

Intelligent text processing and applications:

   Document classification

   Information retrieval

   Information extraction

   Text mining

   Summarization

   Spell checking

   Natural language interfaces

etc.
We welcome works on processing any language (not necessarily English), though major languages are of more general interest. When discussing phenomena of languages other than English, please keep your discussion understandable for people not familiar with this language.
You can have a look at the contents of the past CICLing-2009, 2008, 2007, 2006, 2005, 2004, 2003, 2002, 2001, 2000 proceedings to get an idea of our interests. If not sure whether your topic is of interest, please ask us.

Traditionally, our keynote speakers give a formal talk, which is also published in extenso in the proceedings, and also organize a "special event" (a discussion, tutorial, experiment, or something just interesting). Such events, as well as publication of the keynote talks in the proceedings, are distinctive features of CICLing. [Past participants' opinions]
James Pustejovsky (USA)

Topic to be announced.

Shuly Wintner (Israel)

Shuly Wintner won the ballot among the attendees of CICLing 2008 for a future keynote speaker!

Topic: (tentative, but very likely) Computational Models of Language Acquisition

| | |
| --- | --- |
| Registration of abstracts and expression of interest | Passed |
| Full text of registered papers | Passed |
| Notification of acceptance | Passed |
| Camera-ready for LNCS papers (oral session) | Passed |
| Camera-ready for poster session | Passed |
| Author and early registration | Passed |
| Conference | March 21 to 27 |
Paper submission is divided in two phases: first, the authors should express their interest by registering a tentative abstract of the paper. At this stage, the full text is not yet required; the tentative abstract will only be used to find suitable reviewers for your paper. The authors of registered papers should upload the full text of the paper by November 23 (a few days are still OK; contact us if you need more time than several days, but in any case do register your abstract first).
Though we cannot guarantee processing of any paper that does not arrive by the corresponding deadline, you may contact us if you really cannot submit your paper in time, and we will see what can be done.

Registration form is available from the Local Information page.
By submitting a paper, at least one author thereby promises, in case of acceptance, to attend the conference in person to present the paper and to pay the corresponding registration fee.
On reduced registration fee: A very limited number of reduced registrations may be available. To apply, please contact us and thoroughly justify your application. Eligible for reduced registration can be people from underdeveloped countries in case if their institutions have real difficulties paying the full fee (generally not included: North America, Western Europe, Japan, South Korea). Authors must apply for reduced registration (clearly indicating the discount amount) before submission of their paper, and also must tick the group "[X] Discount or waiver is requested" in the web submission system. No new applications will be considered for already reviewed papers. Notes: (1) Though all papers are judged by strictly academic criteria, (only) for borderline cases and (only) between papers of comparable quality we may give preference to papers with fully paid fee. (2) Though we will do our best for this not to happen, we cannot guarantee providing the material (including the proceedings) to participants with reduced fee. Also, in case of lack of seats in the excursion bus we will have to give preference to fully registered participants.

All papers accepted for oral presentation will be published in a proceedings volume edited by Springer-Verlag in its Lecture Notes in Computer Science series. Papers accepted for poster presentation will be published separately, see Poster Session (let us know if you actually prefer the poster type of publication).
Submissions are received electronically. See here the submission guidelines and a link to the web submission system.
Contact: See email options, fax, and the street address on www.CICLing.org/contact.html. Please avoid sending us any paper mail.

The papers accepted for the poster/demo session are anticipated to be published in a special issue of International Journal of Computational Linguistics and Applications (IJCLA) or Polibits journal, ISSN 1870-9044 or maybe journal RCS (we may have two types of publication or one of them, which will be decided later, but before acceptance notification, so you will know exactly where your paper will appear). See here the guidelines for submitting and preparing your poster.

General schedule is announced on the Local Information page.
Tentatively, there will be three days of technical program and three days of cultural program. If you don't have time for the cultural program, you can arrive on Monday and leave on Friday; you will miss some tours.
See also the detailed program.

Accepted (rejected) papers and their abstracts.
NEW DETAILED PROGRAM.
We received a record number of submissions in all 10-year history of CICLing! 271 papers by 565 authors from 47 countries were received; the previous record was 232 submissions in 2008, Israel.

Details of the cultural program are announced on the Local Information page.

We suggest that it is convenient for the participants to stay in the same hotel, to facilitate informal interaction and also transportation. Usually our participants form ad-hoc informal companies in the hotel reception to go to some restaurant, walking tours, etc. Also, we expect to have discounted rates for the participants of the conference.
Travel and accommodation details are announced on the Local Information page.

Local information is available from the Local Information page.

Program Committee
Best Paper Award Committee
Organizing committee (more to appear)
Corina Forăscu (Chair)

Return to the top of the page.